Decals for 1/72 Lockheed SR-71 Part1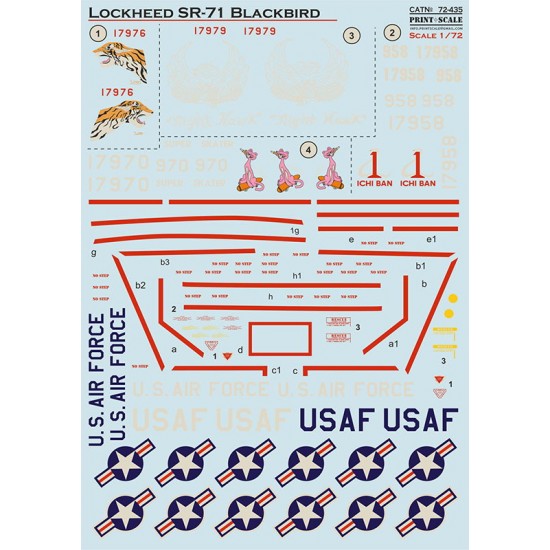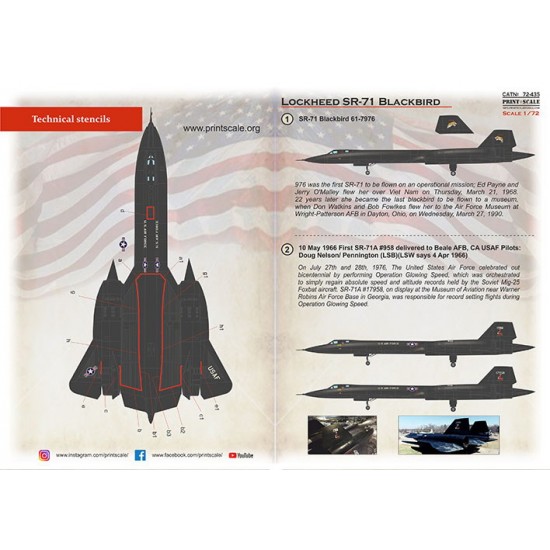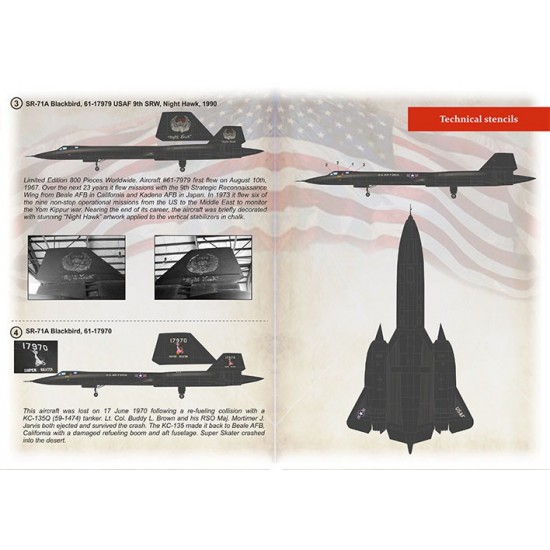 Decals for 1/72 Lockheed SR-71 Part1
1. SR-71 Blackbird 61-7976. 976 was the first SR-71 to be flown on an operational mission; Ed Payne and Jerry O'Malley flew her over Viet Nam on Thursday, March 21, 1968. 22 years later she became the last blackbird to be flown to a museum, when Don Watkins and Bob Fowlkes flew her to the Air Force Museum at Wright-Patterson AFB in Dayton, Ohio, on Wednesday, March 27, 1990.
2. 10 May 1966 First SR-71A #958 delivered to Beale AFB, CA USAF Pilots: Doug Nelson/ Pennington (LSB)(LSW says 4 Apr 1966) On July 27th and 28th, 1976, The United States Air Force celebrated out bicentennial by performing Operation Glowing Speed, which was orchestrated to simply regain absolute speed and altitude records held by the Soviet Mig-25 Foxbat aircraft. SR-71A #17958, on display at the Museum of Aviation near Warner Robins Air Force Base in Georgia, was responsible for record setting flights during Operation Glowing Speed.
3. SR-71A Blackbird, 61-17979 USAF 9th SRW, Night Hawk, 1990. Limited Edition 800 Pieces Worldwide. Aircraft #61-7979 first flew on August 10th, 1967. Over the next 23 years it flew missions with the 9th Strategic Reconnaissance Wing from Beale AFB in California and Kadena AFB in Japan. In 1973 it flew six of the nine non-stop operational missions from the US to the Middle East to monitor the Yom Kippur war. Nearing the end of its career, the aircraft was briefly decorated with stunning "Night Hawk" artwork applied to the vertical stabilizers in chalk.
4. SR-71A Blackbird, 61-17970. This aircraft was lost on 17 June 1970 following a re-fueling collision with a KC-135Q (59-1474) tanker. Lt. Col. Buddy L. Brown and his RSO Maj. Mortimer J. Jarvis both ejected and survived the crash. The KC-135 made it back to Beale AFB, California with a damaged refueling boom and aft fuselage. Super Skater crashed into the desert.

Water-slide Decals:
Instruction:
1. Preparation: to achieve better result, a gloss or semi-gloss coat is very important. It will make a smooth layer which the decals will suction to and make it much easier to apply and set them.
2. Cut out the decal you need (do it on cutting mat)
3. Grab the decal with tweezers, place it on the surface of the water and leave it for about 20 seconds.
4. Remove the decal from the water and place it on paper towel to remove any excess water.
5. Apply decal solution to the part where the decal is to be placed.
6. Slide the decal off the backing paper on to the model. Using a paint brush or cotton bud is a good way to do this without damaging the decal.
7. Use the brush, knife or cotton bud to position the decal. Using your paper towel, gently dab the decal and soak up the excess water (decal softner is also recommended at this stage. After applying softner, the decal will suction to the part and flatten out smooth.)
8. When the decal is completely dry, give another coat of varnish or Klear/Future to seal it.
General Info
Scale
1/72
Type
Model Upgrade/Accessory
Subtype
Decals / Stickers
Stock:

In Stock

Reward Points:

15

SKU:

PRS72-435

1pcs in Stock

Print Scale Decals
MRP:
US$19.05
US$3.73
19% OFF