1/72 Kiowa Helicopter Decals
---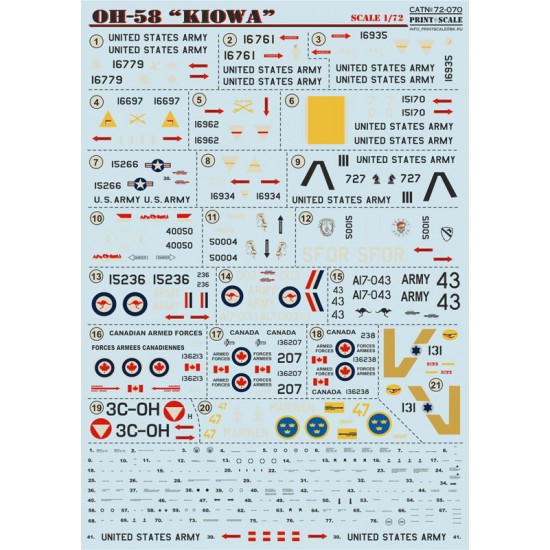 Type: water-slide decals

1. OH-58A 68-16779 (16779) 120th AHC Bien Hoa, Vietnam 1970.

2. OH-58A 68-16761 (16761) 173rd ABN Bong Song, Vietnam 1970.

3. OH-58A 68-16935 (16935) 17th Cavalry Regiment Quan Loi, Vietnam 1970.

4. OH-58A 68-16697 (16697) 1st Cavalry Regiment Vinh Long, Vietnam 1971.

5. OH-58A 69-16962 (16962) 17th Cavalry Regiment Quang Tri, Vietnam 1971

6. OH-58C 70-15170 (15170) New Mexico, USA 2000.

7. OH-58A 71-15266 (15266) Bell Helicopter Textron, USA 1989.

8. OH-58A 68-16934 (16934) 17th Cavalry Regiment Di An, Vietnam 1970.

9. OH-58D 727 H-Company, 4th Brigade, 3rd Aviation Regiment, 3rd Infantry Division, Operation "Desert Storm" Iraq 1991

10. This OH-58D was assigned to 2nd Squadron 17 th Cavalry Regiment, 101 st Airbome Division Its nickname, ?Arsenal?, was painted on both sides of the upper cowling

11. OH-58D "Monsta" 95-00004 (50004) C-Troop, 3/17th Cavalry Regiment, Iraq 2004.

12. This OH-58D (R) was assigned to E Troop, 1st Squadron, 7th Cavalry Regiment 1st Cavalry Division, in Bosnia in1998 as part of SFOR. A 1st Cavalry emblem is on the nose of the Warrior. The ?Bounty Hunter? emblem of E Troop is on the right side of the ALQ-144 pedestal, and the ?Garryowen? crest is on the left

13. OH-58A 70-15236 (15236) Australian Army, 161 Recce Flight Assoc, Nui Dat, Vietnam 1971.

14. Bell 206B A17-003 Australian Army, Brisbane, Australia 1971

15. Bell 206B A17-043 Australian Army, Australia 2002

16. CH-136 136213 early training scheme, Canada 1971.

17. CH-136 136207 3CFFTS (training squadron), Canada 1980.

18. CH-136 136238 10 TAG, Canada 1980.

19. OH-58A 3C-OH Austria 2010.

20. Hkp-6B 06047 Sweden Navy, Berga, Sweden 1980.

21. Bell 206 131 Light Helicopter Squadron, Israel 1998

How to apply water-slide decals:
1. Preparation: to achieve better result, a gloss or semi-gloss coat is very important. It will make a smooth layer which the decals will suction to and make it much easier to apply and set them.
2. Cut out the decal you need (do it on cutting mat)
3. Grab the decal with tweezers, place it on the surface of the water and leave it for about 20 seconds.
4. Remove the decal from the water and place it on paper towel to remove any excess water.
5. Apply decal solution to the part where the decal is to be placed.
6. Slide the decal off the backing paper on to the model. Using a paint brush or cotton bud is a good way to do this without damaging the decal.
7. Use the brush, knife or cotton bud to position the decal. Using your paper towel, gently dab the decal and soak up the excess water (decal softner is also recommended at this stage. After applying softner, the decal will suction to the part and flatten out smooth.)
8. When the decal is completely dry, give another coat of varnish or Klear/Future to seal it.
General Info
Scale
1/72
Type
Model Upgrade/Accessory
Subtype
Decals / Stickers
Stock:

In Stock

Reward Points: 23
SKU:

PRS72-070

2pcs in Stock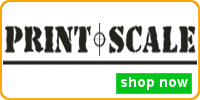 Print Scale Decals
MRP: US$19.59 Save: US$3.69
18% OFF
"In-Stock" Really Means It
SAME or Next day shipping*
There are no reviews
Maybe you can help? Many users will be grateful to you. And so are we.