1/72 Northrop P-61 Black Widow Decals
---



Pre-Order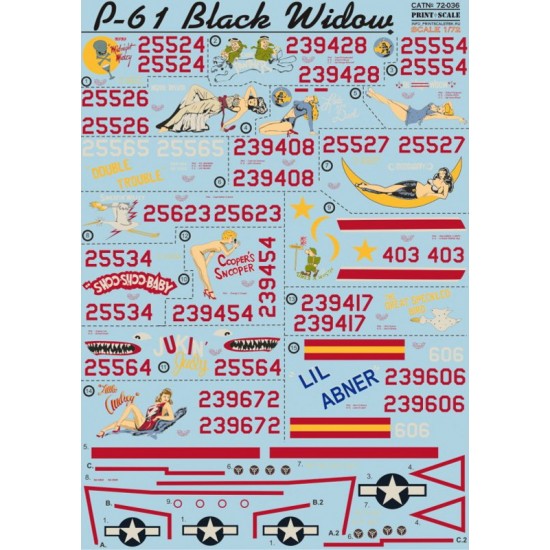 Type: water-slide decals

1. P-61A-1 42-5524 ?Midnight Mickey?,crewed by 2Lt Mc Cumber, R/O Flt Off Daniel Hinz and Gunner Pvt Peter Dutkanicz, 6th NFS, Saipan, mid-1944

2. P-61B-2 42-39428 OUR PANTHER , crewed by 2Lt Fred M Kuykendall, R/O Flt Off Charles H Rousse and Gunner Cpl George Bancroft, 548th NFS, le Shima, Spring, 1945

3. P-61A-5 42-5554 THE VIRGIN WIDOW ,crewed by 2Lt Robert Ferguson, R/O 2Lt Charles Ward and Gunner Sgt Leroy Miozzi, 6th NFS, Saipan, late December 1944

4. P-61A-1 44-5526 NIGHTIE MISSION, 6th NFS, Saipan, mid-1944

5. P-61B-2 42-39408 Lady in the Dark, crewed by Capt Sol Solomon and R/O Lt John Scheerer, 548th NFS, Iwo Jima, Spring 1945

6. P-61A-10 42-5565 ? DOUBLE TROUBLE?, crewed by 2lt Robert G Bolinder and R/O Flt Off Robert F Graham, 422nd NFS, Etain ,France late 1944

7. P-61A-1 44-5527 MOONHAPPY, crewed by 2lt Dale Hap Haberman, R/O Lt Raymond Mooney and Gunner, Pvt Pat Farelly, 6th NFS , Saipan, late 1944

8. P-61A-10 42-5623 , Sweatin Wally, flown by Capt Walter A Storck, 427th NFS, Myitkyina, Burma, late 1944

9. P-61B-1-NO ?Times A Wastin? 1944

10. P-61A-5 42-5534 ?SHOO-SHOO-BABY? crewed by Lt Robert O Elmore and R/O Lt Leonard F Mapes, 422nd NFS, Chateaudun, France, Autumn 1944

11. P-61A-5 42-5564 JUKIN Judu, crewed by Lt Eugene Lee and R/O Lt Donald Doyle, 422nd NFS, Etain, France, late 1944

12. P-61B-2 42-39454 Cooper s Snooper, flown by 1 Lt George C Cooper, 548th NFS, Iwo Jima, Spring 1945

13. P-61B-1 42-39417 THE GREAT SPECKLED BIRD, crewed by Sguadron Maintenance Officer Lt Dick Hoover and Senior Sguadron, R/O Lt Earl R Dickey 416th NFS, Horsching, Austria, June1945

14. P-61B-15 42-39672 ?Little Audrey?, 422nd NFS, Etain, France , late 1944

15. P-61B-15 42-39606 ?Ll L ABNER?, crewed by Lt Alvin G Moore and R/O Lt Juan D Lujan, 415th NFS, St Dizier, France, March 1945

How to apply water-slide decals:
1. Preparation: to achieve better result, a gloss or semi-gloss coat is very important. It will make a smooth layer which the decals will suction to and make it much easier to apply and set them.
2. Cut out the decal you need (do it on cutting mat)
3. Grab the decal with tweezers, place it on the surface of the water and leave it for about 20 seconds.
4. Remove the decal from the water and place it on paper towel to remove any excess water.
5. Apply decal solution to the part where the decal is to be placed.
6. Slide the decal off the backing paper on to the model. Using a paint brush or cotton bud is a good way to do this without damaging the decal.
7. Use the brush, knife or cotton bud to position the decal. Using your paper towel, gently dab the decal and soak up the excess water (decal softner is also recommended at this stage. After applying softner, the decal will suction to the part and flatten out smooth.)
8. When the decal is completely dry, give another coat of varnish or Klear/Future to seal it.
General Info
Scale
1/72
Type
Model Upgrade/Accessory
Subtype
Decals / Stickers
Stock:

Pre-Order

Reward Points: 20
SKU:

PRS72-036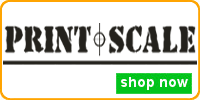 Print Scale Decals
MRP: US$16.98 Save: US$3.12
18% OFF
"In-Stock" Really Means It
SAME or Next day shipping*
There are no reviews
Maybe you can help? Many users will be grateful to you. And so are we.